| | |
| --- | --- |
| Email: | kancelar@siliconhill.cz |
| Telefon: | +420 724 782 500 |
Koleje Strahov, blok 1,
1. patro, kancelář SU,
č. dveří 40 (na konci chodby vpravo)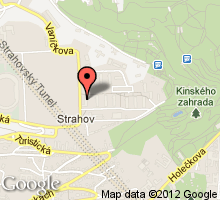 Silicon Hill Dance Club
If someone thinks that "going to dance" is a matter only for high school, he would be set right quick at Strahov Houses. Students there attend to dance lessons of Standard and Latin American very often and with plesure.
This project began in winter term 2008 as a part of a student club Silicon Hill. Over 100 people came to see the first training lesson hence the original courses were divided into three groups: Beginners, Intermediate and Advanced. Each group has two lessons a week. All courses are led by an experienced pair – Pavel Vít with Kristina Zaslavska – in friendly atmosphere.
It´s hard to say who brings the idea to choose several pairs from each level and make choreography with which we could perform on the student ball of ČVUT. From the idea it was not a long way to establish a Silicon Hill Dance Club. After a few months of hard work a choreography called Red Devil´s Tango was born. This is a Latin formation for eight pairs which will gradually dance tango, cha-cha, samba and rumba.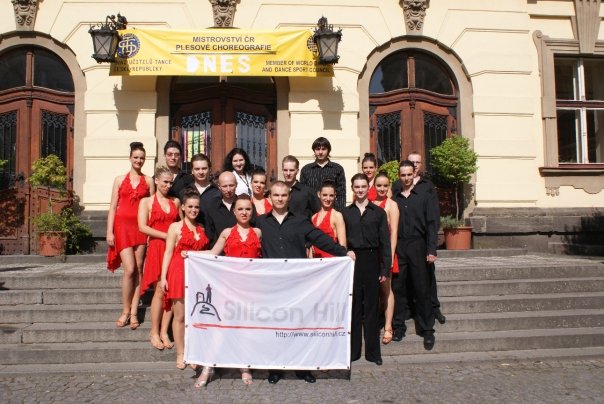 This choreography was quite succesfull hence our choaches came with an idea to take part in a competition. And as there are not dribblets at all, they chose the Czech republic Championship in ball formations, taking place in Chrudim May 1st 2009. 27 dance clubs from whole republic and even one foreign visitor (Dance Club from Žilina) arrived to this colourful town; together with 27 competitive choreographies. So the competition was high as well as ambitions of competitors. After "space exams" beginning in early hours and where there was a possibility to tip a level of each club, the right competitive fever came on the stage. Dress rooms were full of hairsprays and face power… all over the place brushing hair, doing makeups, glueing eyelashes, cleaning shoes and of course, chaos. At the end all dancers were changed beyond recognition and ready for gala entrée of all groups. After that each show followed. Our Silicon Hill club enjoyed a lot his "five minutes of fame" because we knew very well that after six month training we would be mad to think about prize. Our 24th place was pleasant surprise and we all left Chrudim with feeling of a good done job and full of new experiences.
---
admin | 15. Květen 2009 |
Ostatní
---
Komentáře k článku
K tomuto článku nebyl vložen žádný komentář, buď první!
Přidat komentář
nahoru
|
tisk